I'm starting to think that Knitty's
exchequered
is the neverending scarf of doom. This has been in my stash as a UFO for a long freaking time. I love how it looks, but I can't focus on the double knitting for a very long time. I don't like k1p1 ribbing much either, so I'm assuming that there's a connection there.
To ease the process, I'm having: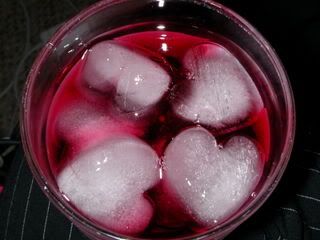 Delicious red vodka drinks with happy heart-shaped ice. I went to Ikea for the first time today, and I got a couple of spiffy fun ice cube trays. I also have puzzle piece ice!
Hopefully the Stoli will get me to concentrate on my knitting...