So, this is only about 80% knitting-related, I'd say. As some of you might (and as many might not) know, I was the lucky recipient of a beautiful new sewing machine for my birthday. That thing can do everything. So, naturally, with my birthday money, I hit up the Joann clearance sale and scored 12 yards of fabric for $15, plus some more supplies and a couple of patterns.
For a long time, I'd been wanting a roll-up needle case. All this new fabric seemed like a good excuse, so thanks to the pattern on
about.com
and some of my own alterations, here are the fruits of my labor: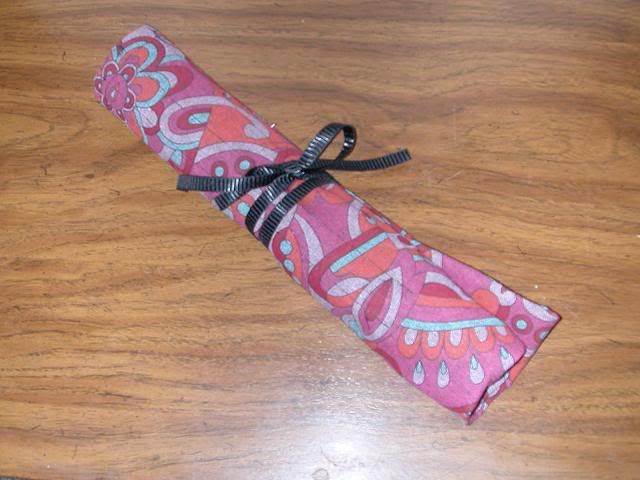 Not the best stitching job ever, but hey, I'm learning. Check out the inside: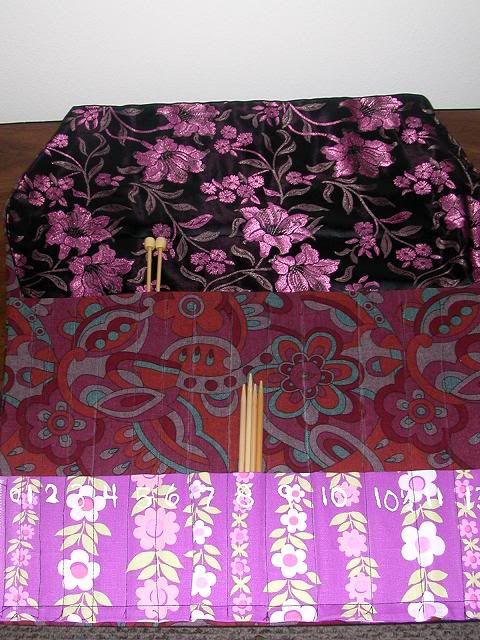 All are heavy layers of fabric, and my sewing machine cut through somtimes six layers of the stuff as though it were nothing! The lighter purple is a heavy woven fabric, and the main fabric is a heavy printed woven fabric that's almost like denim. The slick black lining is that silky faux-Chinese fabric...
Although, let me tell you, I
suck
at working with fabric paint. Some of those numbers look like they were done by an eight year-old. Whoops.
I think I'll make a second one, changing around a few things, and give this one to my mom. She's a very talented knitter, and, like me, has all of her needles in a tupperware case in an incredible disarray. She won't mind the bad stitching job; she knows I'm just learning, and is probably really happy to see me stitching away on my new machine...